How to Clean Car Floor Mats

When driving your new INFINITI in Elmhurst, you want to keep it feeling like new for as long as possible. While you can replace accessories and parts from the INFINITI of Clarendon Hills parts department, you can save money and time by learning DIY tips for taking care of your INFINITI, like how to clean car floor mats.
---
Supplies for Cleaning Car Floor Mats
The supplies you need for cleaning your floor mats are easy to find in Downers Grove. They vary based on the material your floor mats are made of:
Rubber Floor Mats
Vacuum
Rubber floor mat cleanser
Stiff bristle brush
Hose or bucket of water
Microfiber towel
Carpet Floor Mats
Vacuum, wet vac if available
Carpet floor mat cleaner
Brush
Hose or bucket of water
---
How to Clean Car Floor Mats
Carpeted floor mats give your INFINITI a more finished, polished look on the streets of Westmont. Luckily, how to clean car floor mats when they're carpeted isn't difficult:
Remove the floor mats from your vehicle.
Vacuum mats to remove dirt.
Shake and whack the floor mats against a hard surface to rid them of dust and smaller dirt particles.
Apply a cleaner designed for carpet floor mats according to the cleanser's directions.
Scrub the mats to remove stains and ground-in debris.
Rinse thoroughly.
If you have a wet vac, use it now to remove any additional dirt and cut down the drying time.
Hang the mats to dry. Make sure they are completely dry before placing them back in your vehicle.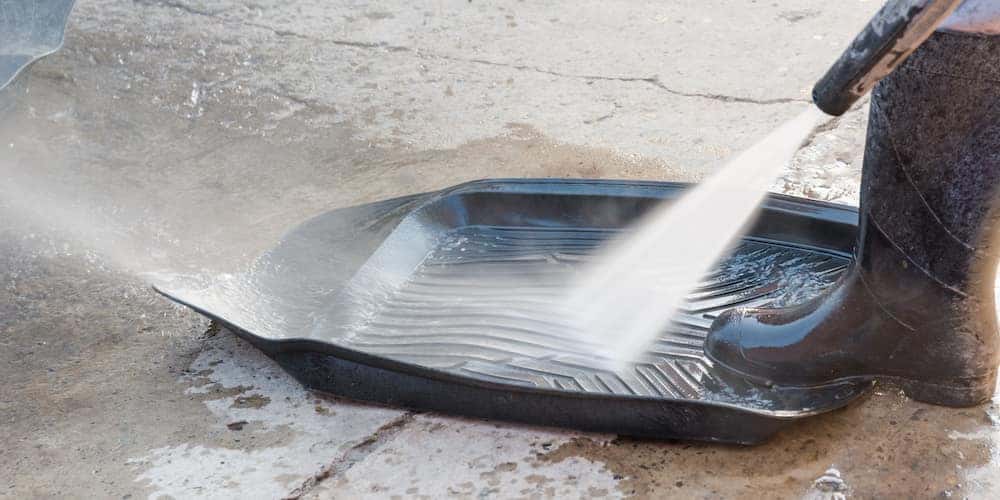 ---
How to Clean Rubber Floor Mats
When you ask how to clean rubber floor mats, you're going to be pleased with the answer, because it's really easy. Here's how to clean rubber floor mats:
Remove floor mats from your vehicle.
Shake out the mats.
Rinse the mats with clean water.
Apply a cleanser designed for rubber mats, and gently scrub with a stiff bristle brush to remove additional grime and debris.
Rinse the mats clean.
Hang up to dry or dry with a microfiber towel. Make sure mats are completely dry before returning them to your vehicle.
Keep Your INFINITI in Great Shape with INFINITI of Clarendon Hills!
Keeping your INFINITI in great condition makes it a pleasure to drive and increases its resale value. Plus, it's easy! Check INFINITI of Clarendon Hills's service tips to learn simple ways to keep your INFINITI in great shape without breaking the bank.
---
Auto Service Coupons in Clarendon Hills