How to Replace the INFINITI Key FOB Battery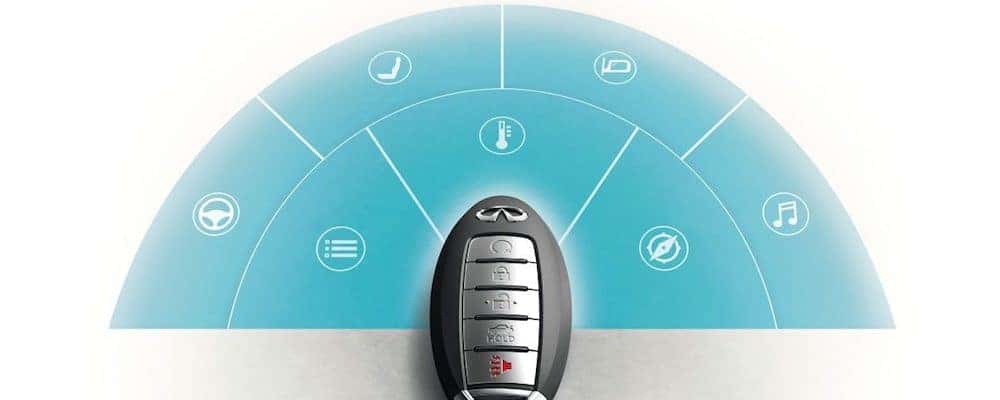 When you purchase a luxury INFINITI model to navigate Elmhurst roadways, you can enjoy features like INFINITI Intelligent Key and remote start in the palm of your hand. But what happens when your battery dies? Follow the simple steps below to replace your INFINITI key fob battery quickly and easily.
What Kind of Battery Goes in the INFINITI Key Fob?
Before you begin, you'll want to make sure that you have the correct replacement battery on hand. The type of key fob you have will dictate the battery you need. An INFINITI Key Fob will require a CR2025 type battery, while a key fob that's been designed to work with INFINITI Intelligent key requires a CR2032 battery instead. You can visit our parts center to make sure you get the correct battery for your model.
INFINITI Key Battery Replacement Steps
Press the release tab on the back of your key fob to remove the metal car key.
Once you have removed the metal key and the release tab, you will need to pry open the small panel that's situated underneath. At this point, you should see the INFINITI key fob battery housing. We suggest using a flathead screwdriver with a small amount of tape around the end to avoid scratching or damaging your fob in the process.
Replace the dead battery with a fresh one, making sure to position the positive side face-down in the fob.
Reattach the small panel that you removed earlier in the process, and then reinsert the metal key along with the release tab.
You're ready to drive!
INFINITI Key Fob Troubleshooting
If you notice a problem with your push-button start or your key fob keyless entry remote, these tips and tricks can help you get on the road quickly or troubleshoot the problem:
If your vehicle isn't starting, the battery in your key fob might be low. Try holding the key fob closer to the start button to reduce the energy needed to send a signal.
If you can't start your car using push-button start, the problem could extend beyond your key fob battery. Try replacing the INFINITI key battery first, but if that doesn't solve the problem, you will need to schedule a service appointment to have your vehicle's battery checked.
If your INFINITI key battery is dead, you can use the metal key in the back of your key fob to start your vehicle and lock and unlock the doors.
Visit the INFINITI of Clarendon Hills Service Center for Help
If you run into any problems, the certified technicians at our Clarendon Hills service center are here to help. Contact us, or drop by, and we will get your key fob in working order and you back on your way to Downers Grove in a flash. We can also help provide other service-related tips like how to clean car floor mats.
More From INFINITI of Clarendon Hills
INFINITI of Clarendon Hills has great news for Elmhurst drivers when it comes to INFINITI QX60 safety ratings! The 2023 INFINITI QX60 received the Insurance Institute for Highway Safety's 2022's TOP SAFETY PICK+ award for its excellence in safety features. What does this mean? It means the 2023 INFINITI QX60 earned good ratings in six IIHS crash evaluations:…

Perhaps you want to upgrade to a more spacious sports utility vehicle. Maybe you have always favored sedans or trucks, but crave the space and other comfort-centric interior features a quality SUV possesses. The 2023 INFINITI QX80 interior deserves its own parade, as it comes with tons of features that make driving around the Elmhurst…

How much is an INFINITI QX60? The INFINITI QX60 Crossover SUV is a luxury vehicle with a plethora of trims and configurations to choose from, and INFINITI of Clarendon Hills has a list of every INFINITI QX60 MSRP– including some of the features that Downers Grove drivers can look forward to! There's a great INFINITI QX60 price for every…