How to Check Car Oil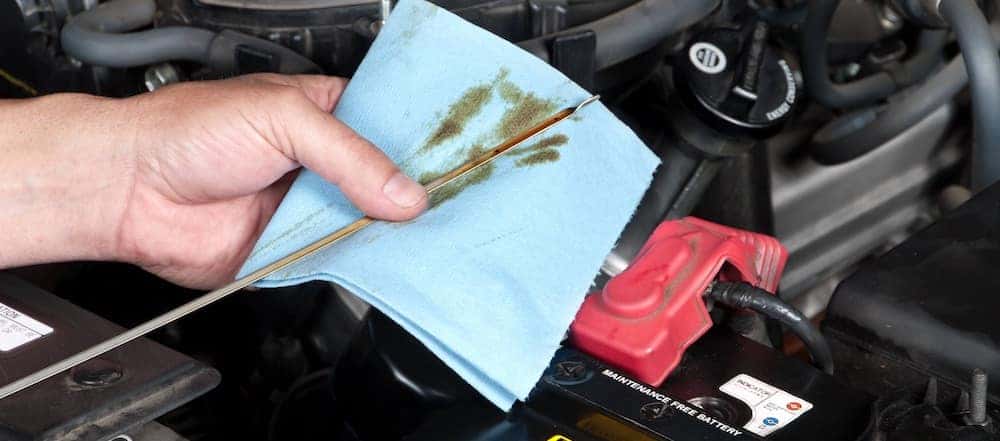 Motor oil, also known as engine oil, is one of the most important fluids in your INFINITI vehicle. It helps the engine function properly so you can drive efficiently from Elmhurst to Westmont without overheating. That's why regular oil changes are crucial and why you should learn how to check the oil level in your car.
Tips on How to Check the Oil Level in Your Car
Some vehicles have electronic oil monitors, so they don't use dipsticks. Check your owner's manual to see what INFINITI recommends for checking oil. To check your oil the traditional way, use these tips.
Ensure your vehicle is parked on level ground. The engine should be off and cold.
Open the good and locate the oil dipstick.
Pull the dipstick out and wipe off any oil.
Replace the dipstick all the way, then pull it back out and examine both sides to see where the oil level is.
Your dipstick should have level indicators, and the oil should reach to the middle of these indicators. If the oil level is too low, you'll need to add more. More sure you get the oil recommended in your owner's manual. To fill the oil, remove the cap and add a little oil at a time until the oil is back to between the indicator markers.
Get Your Oil Changed at the INFINITI of Clarendon Hills Service Center
If you need help checking your oil, you're wondering how often you should have an oil change, or you need to schedule an appointment, contact us online or visit our service center in Clarendon Hills, not too far from Downers Grove.
More on INFINITI of Clarendon Hills Service
When you purchase a luxury INFINITI model to navigate Elmhurst roadways, you can enjoy features like INFINITI Intelligent Key and remote start in the palm of your hand. But what happens when your battery dies? Follow the simple steps below to replace your INFINITI key fob battery quickly and easily. Schedule Service Parts Center What…

Imagine you're driving down the road in Elmhurst, and all of a sudden you see smoke coming from under your vehicle's hood. Not only is that a scary situation, but it also means that there's something wrong with your vehicle. That's why it's important to keep  up with routine maintenance, so you can avoid more…

Motor oil, also known as engine oil, is one of the most important fluids in your INFINITI vehicle. It helps the engine function properly so you can drive efficiently from Elmhurst to Westmont without overheating. That's why regular oil changes are crucial and why you should learn how to check the oil level in your…