How Often Should You Change Your Oil?

Changing your oil on a regular basis is important for maintaining your vehicle's health. In the past, it was recommended that your oil gets changed every 3,000 miles, but with advances in oil and engine technology, that oil change interval has extended. Now, most vehicles can go 7,500 to 10,000 miles between oil changes. It's best to refer to your owner's manual more additional instructions about how often you should change your oil.
---
Oil Change Frequency Guidelines
7,000 to 10,000 miles is a broad guide because there are vehicles that will need oil changes sooner. If these circumstances apply to you, visit INFINITI of Clarendon Hills near Elmhurst to see when you should bring your vehicle in:
Commercial use
Heavy towing
Off-roading
Racing
---
More Oil Change Tips
Before heading down to our Clarendon Hills service center, check out these important facts about oil changes. Have questions? Contact our service center online or by phone at 630-703-2827.
Don't drive a lot? You still need an oil change done at least twice a year. Oil breaks down over time even if the car is not in use.
Have the filter replaced when the oil gets changed. Stop by our parts department at INFINITI of Clarendon Hills for an oil filter if you choose to change your vehicle's oil.
Wondering the difference between synthetic and conventional oil? Read through your owner's manual, because synthetic oil is required in some vehicles and it can cost more.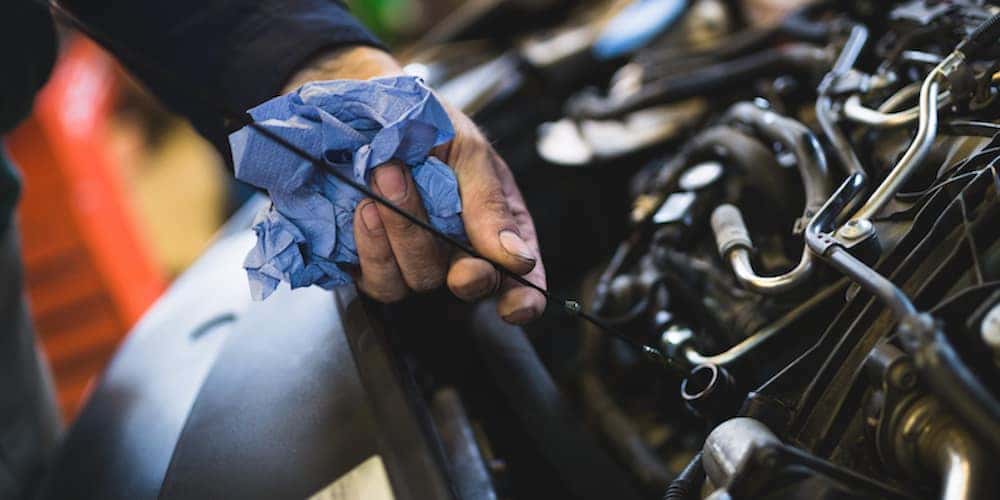 ---
How Often Should I Check My Oil Level?
Checking your oil level at least once a month will catch any potential leaks in the oil system. Without motor oil, your vehicle can get seriously damaged. Make sure you check for any change in the oil's color, as well as the appearance of any metal particles in the oil. These are all signs of serious problems.
---
Turn to INFINITI of Clarendon Hills for Oil Changes
If you're low on oil or notice any other issues, schedule a service appointment with the service team at INFINITI of Clarendon Hills. Our factory technicians will make sure your vehicle is running in top shape. Browse our current service coupons and specials so you can save on your next visit! We can also answer your other service questions, like how to I remove scratches or dents from a car.
INFINITI of Clarendon Hills Service Specials
More Service Tips from INFINITI of Clarendon Hills
When you purchase a luxury INFINITI model to navigate Elmhurst roadways, you can enjoy features like INFINITI Intelligent Key and remote start in the palm of your hand. But what happens when your battery dies? Follow the simple steps below to replace your INFINITI key fob battery quickly and easily. Schedule Service Parts Center What…

Imagine you're driving down the road in Elmhurst, and all of a sudden you see smoke coming from under your vehicle's hood. Not only is that a scary situation, but it also means that there's something wrong with your vehicle. That's why it's important to keep  up with routine maintenance, so you can avoid more…

Motor oil, also known as engine oil, is one of the most important fluids in your INFINITI vehicle. It helps the engine function properly so you can drive efficiently from Elmhurst to Westmont without overheating. That's why regular oil changes are crucial and why you should learn how to check the oil level in your…