What is Good Mileage On a Used Car?

If you're shopping for your next Elmhurst car, used vehicles are a great option. During the used-car-buying process, there are lots of factors to consider, including mileage. Many people are programmed to immediately turn down the idea of a used vehicle with over 100,000 miles on it, and while there are certainly times when it's smart to do so, there are instances where this could be considered good mileage for a used car. If the vehicle was properly cared for and well-maintained, it could very well be a good buy. The most important factors to consider include location, condition, and usage – learn more with the auto experts at INFINITI of Clarendon Hills before you get behind the wheel!
How to Shop for a Used Car
In addition to mileage, here are a few things to think about as you shop for a used car in Clarendon Hills:
Location – You'll want to know where your prospective used vehicle "lived" before you move ahead with it. For instance, a vehicle from a warm, dry climate like Southern California will have fared better over the years than one from an area where cold, wet weather is common.
Condition – Especially if you're considering a private seller, you should always have a certified mechanic inspect the vehicle for issues and damage such as rust or mechanical problems. These will need to be dealt with eventually, creating added expenses for you in the long-run.
Usage – If a car was driven 60,000 miles through stop-and-go traffic in Downers Grove, it's likely to wear down faster than one that was driven 60,000 miles on open highways.
Maintenance – Always check the maintenance history of a used vehicle before you buy. Ensure it received regular vital services like oil changes throughout its life, as irregular service history can present costly issues in the near future.
Mileage vs. Age
You may be wondering what's more important – mileage or age? A newer model year with 50,000 miles can certainly be a better buy than an older model with only 10,000 miles. To help make the right decision, consider the following when buying:
If a car spends most of its life sitting in a garage, it's likely to require more costly repairs, as mechanical issues and problems with rubber seals and gaskets can develop when a car isn't driven regularly.
A vehicle with a well-documented maintenance history is preferable to one that has been neglected.
Even if it's an older model year, a vehicle with less miles on it may have a higher price tag attached.
If you're ultimately looking to find a vehicle that has low mileage and is a newer model year, you'd do well to consider a certified pre-owned model. Also, be sure to look into our used vehicle specials to enjoy even greater savings.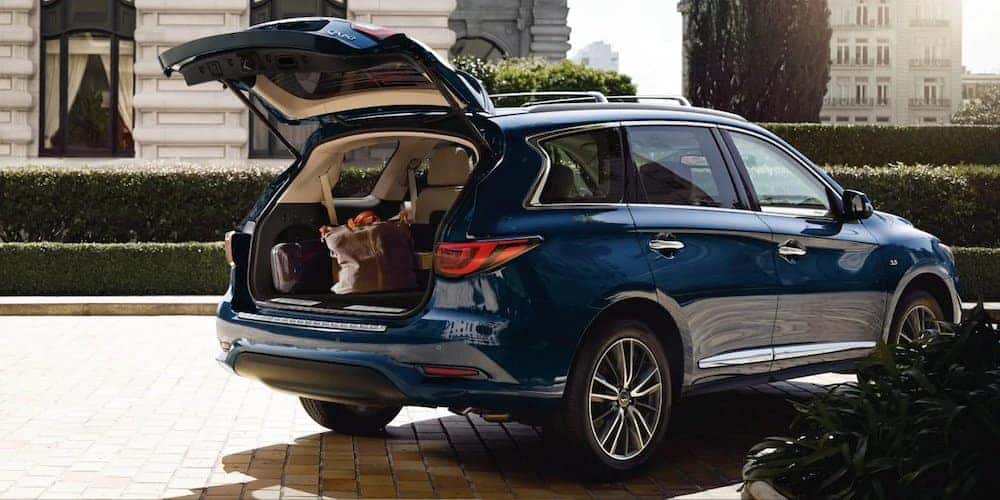 Explore Used Vehicles for Sale in Clarendon Hills Today!
Now that we've explored more about good mileage for a used car, it's time to head to INFINITI of Clarendon Hills near Westmont to find a high-quality pre-owned model that suits your budget and needs! Contact us to learn more about our inventory where you'll find many different brands like used Ford vehicles. Also, be sure to explore our car buying tips to learn how to buy a new car, how to refinance a car loan, and so much more!
---
Explore Our Models
View Incentives Contact Us If you're looking for a well-designed SUV that comes outfitted with luxury features, you'll want to take a closer look at the new QX80. Boasting standard heated front seats, a Bose 13-speaker Premium Sound System, and Predictive Forward Collision Warning, the new QX80 can keep you comfortable, entertained, and safe…

INFINITI of Clarendon Hills has great news for Elmhurst drivers when it comes to INFINITI QX60 safety ratings! The 2023 INFINITI QX60 received the Insurance Institute for Highway Safety's 2022's TOP SAFETY PICK+ award for its excellence in safety features. What does this mean? It means the 2023 INFINITI QX60 earned good ratings in six IIHS crash evaluations:…

Perhaps you want to upgrade to a more spacious sports utility vehicle. Maybe you have always favored sedans or trucks, but crave the space and other comfort-centric interior features a quality SUV possesses. The 2023 INFINITI QX80 interior deserves its own parade, as it comes with tons of features that make driving around the Elmhurst…
Script: