The 2013 Infiniti G37 from Infiniti of Clarendon Hills is the epitome of automotive craftsmanship and built to fit the needs of Chicagoland Infiniti buyers. Infiniti of Clarendon Hills is excited to present the 4-door 2013 Infiniti G37 Sedan. As your Chicagoland Infiniti dealer, we hope you find our 2013 Infiniti G37 reviews and research materials valuable in finding the accessories, specifications and information you've been looking high and low for. View Infiniti of Clarendon Hills new lineup of 2013 Infiniti G37 Sedans.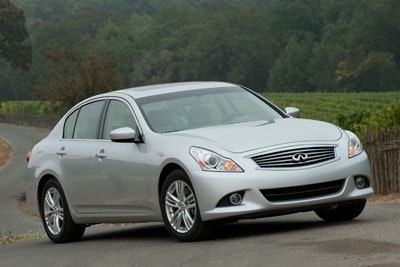 Infiniti of Clarendon Hills presents the 2013 Infiniti G37 Sedan
Buyers find that when they compare the 2013 Infiniti G37 to other makes like the Audi A4 and A5, Acura TSX and TL, BMW 3 Series and Hyundai Genesis, the Infiniti G37 sets itself apart as the best one drive. Scroll down to see why?

The 2013 Infiniti G37 has an starting MSRP of $36,900
The 2013 Infiniti G37 gets 19 city / 27 highway MPG
The 2013 Infiniti G37 goes from 0-60 MPH in 5 seconds
The 2013 Infiniti G37 features 43.9 inches of legroom up front and 34.7 inches in back
The 2013 Infiniti G37 features 40.5 inches of headroom in front and 37.7 inches in back
The 2013 Infiniti G37 is 187 inches long, 69.8 inches wide and is 57.2 inches tall
The 2013 Infiniti G37 weighs 3,590 pounds and has a turning radius of 17.7 feet
We are confident that you'll love the Infiniti G37-visit Infiniti of Clarendon Hills/Westmont today!
Reignite your passion for driving. Alongside a lackluster group of midsize cars, there is one vehicle that leads the pack. With seductive styling, responsive handling and a sporty ride, the revolutionary 2013 Infiniti G line takes luxury and performance to new heights. Extraordinarily constructed from the inside out, the G trumps vehicles like the Audi A4 and A5, Acura TSX and TL, BMW 3 Series and Hyundai Genesis with its sensuous design and remarkable selection of muscular engine options. Infiniti of Clarendon Hills shoppers will be blown away by the 2013 Infiniti G37's vivacious personality and exceptionally comfortable and well-appointed interior. Visit our Chicagoland Infiniti dealership to find a new or used Infiniti G for sale today.
Chicago Infiniti G shoppers can peruse a diverse selection of trims and body styles. The G sedan is available in G37 Journey, G37x, G37x Sport Appearance Edition, G37 Sport, G37 Sport Appearance Edition, G37 Limited Edition and G37x Limited Edition trims. Coupe models are available in G37 Journey, G37x, G37 Sport and IPL G Coupe trims. Finally, the G convertible is offered in G37 and G37 Sport 6MT models. With numerous features, package upgrades, trim options and powertrain configurations, Infiniti of Clarendon Hills shoppers can pick the perfect sports-infused vehicle for their needs.
Luxury and performance are enhanced in the 2013 Infiniti G. Its aggressive styling and advanced aerodynamics visually express the sheer strength contained within its seductive curves. Under the hood, the G explodes with power. All G25 sedans at Infiniti of Clarendon Hills contain a 2.5-liter V6 that generates an competitive 218 horsepower and 187 pound-feet of torque, while G37 sedans get an extra boost of power with a 3.7-liter V6 that produces 328 horsepower and 270 pound-feet of torque. The sporty G coupe is propelled by a 3.7-liter V6 that releases a segment-leading 330 horsepower. All G coupes, including the Base, Journey, G37x and limited-production 2013 Infiniti IPL G models, are equipped with this powerful engine. The 2013 G convertible offers a freeing open-air driving experience and accelerated performance. A 325-horsepower 3.7-liter V6 with 267 pound-feet of torque allows the convertible to dart from 0-60 mph in a swift 6 seconds. Infiniti of Clarendon Hills has one of the best selections of new and used 2013 Infiniti G coupes, sedans and convertibles in Westmont, so stop by today for a test drive and experience effortless exhilaration.
The Infiniti G line is powerful, fast and luxurious. With advanced rear-wheel drive dynamics and various features including power-adjustable leather seats, six-speaker audio, automatic climate control and HID Xenon headlamps, this high-performance vehicle redefines luxury. The G line is also loaded with many other smart, high-end electronics and convenience features. Distance control technologies like All-Around View Monitor, Blind Spot Warning, Lane Departure Warning and Intelligent Cruise Control (Full Speed Range) are just a few highlights. The Blind Spot Warning system alerts the driver if another vehicle is detected in the blind spot area, while the Lane Departure Warning system helps drivers avoid vehicle drift, a primary cause of accidents. In addition to this, Chicago Infiniti shoppers will enjoy amenities such as heated mirrors and seats, driver memory functions, rear parking sensors, foglamps, cruise control and keyless ignition/entry. Visit Infiniti of Clarendon Hills to learn about each specific trim's unique set of features.
Exercise your senses - test drive a new 2013 Infiniti G37 at Infiniti of Clarendon Hills. If you appreciate the privilege of driving, it's time to enter into a beautiful, racecar-inspired vehicle that whips up just as much sport as it does luxury. As your leading Chicago Infiniti dealer, we are proud to offer up the largest selection of new and used Infiniti G cars in the Chicagoland area!
Cruising in a Infiniti G37 from Infiniti of Clarendon Hills makes Chicagoland driving commodious, safe and exciting - all at the same time! This is why:
Infiniti of Clarendon Hills has a grand assortment of 2013 Infiniti G37 Sedans with standard Infiniti safety features like anti-lock brakes, traction control, driver airbags, passenger airbags, side airbags and more, making the 2013 G37 an NHTSA and IIHS favorite. In addition to these safety features, the 2013 Infiniti G37 can easily seat up to 5 passengers. Trunk space with Infiniti is never a worry; the G37 can hold up to 13.5 cubic feet of your personal belongings, providing you with a peace of mind that your next excursion is trouble-free. Topping it all off, the 2013 Infiniti G37 includes an exceptional list of comfort and convenience extras like powered windows, mirrors, doors and locks, climate control, AC and optional hands-free phone and navigation systems. Test drive a G at Infiniti of Clarendon Hills today and witness the Infiniti G37 experience for yourself.
Infiniti's manufacturer's warranty covers the G37 for manufacturing defects and has a 4 Years / 60,000 miles Infiniti warranty. Infiniti has worked for years to minimize its environmental impact; as a result, the G37's carbon footprint is minimal. Not surprisingly, with all of the G37's advantages, this sensational Infiniti Sedan retains a high percentage of its value at 3 years and 36,000 miles, which makes the Infiniti G37 a great used buy!

Infiniti G37 service information for Chicago
Infiniti G37 lessees and owners in Chicago and Illinois have learned that Infiniti of Clarendon Hills at 4151 E Ogden Ave. in Clarendon Hills / Westmont is the very best choice for G37 warranty work, regular maintenance, inspections and mechanical repairs. At Infiniti of Clarendon Hills, Certified Infiniti Technicians trained in the very latest corrective and diagnostic techniques work for one thing - your complete satisfaction. Whether it's time for your Infiniti to have an oil change, brake pad replacement, or simply undergo G37 Scheduled Maintenance, Infiniti of Clarendon Hills is your first choice. Our Certified Infiniti Mechanics also complete specialty jobs and repairs. Infiniti of Clarendon Hills is the smartest choice in Chicagoland for swift, courteous and professional Infiniti Service of all kinds.
If you'd like to make an appointment to have your G37 serviced, click the LINK or just give us a call. Visit us today!