The 2013 Infiniti EX37 from Infiniti of Clarendon Hills is the epitome of dedicated automotive craftsmanship built to fit the needs of Midwest Infiniti aficionados. New for 2013 the EX35 will become the EX37, sporting a new and more powerful 3.7L V6 engine that raises the bar from 297 horsepower, which was previously found in the EX35, to an impressive 325 horsepower in the new EX37. Infiniti of Clarendon Hills is thrilled to present the 4-door 2013 Infiniti EX37 SUV. As your Chicagoland Infiniti dealer, we hope you find our 2013 Infiniti EX37 reviews and research materials valuable in finding the details, specifications and information you've been hunting for. View Infiniti of Clarendon Hills new lineup of 2013 Infiniti EX37 SUVs.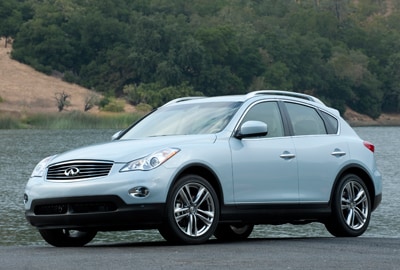 Infiniti of Clarendon Hills presents the 2013 Infiniti EX37 SUV
Consumers find that when they compare the 2013 Infiniti EX37 to other makes like the BMW X3, Audi Q5, Mercedes-Benz GLK and Volvo XC60, the Infiniti EX37 sets itself apart as the most fun to drive. Look at the technical specifications below to find out why!

The 2013 Infiniti EX37 has an starting MSRP of $36,350
The 2013 Infiniti EX37 gets 17 city / 24 highway MPG
The 2013 Infiniti EX37 goes from 0-60 MPH in 5.9 seconds
The 2013 Infiniti EX37 features 44.3 inches of legroom up front and 28.5 inches in back
The 2013 Infiniti EX37 features 40.5 inches of headroom in front and 38.4 inches in back
The 2013 Infiniti EX37 is 182.3 inches long, 71 inches wide and is 61.9 inches tall
The 2013 Infiniti EX37 weighs 3,757 pounds and has a turning radius of 17.4 feet
You will fall in love with the Infiniti EX37 - visit Infiniti of Clarendon Hills today!
The 2013 EX37 is a unique expression of luxury and style in a package that breaks standard thought and rekindles the romance between human and machine. Infiniti of Clarendon Hills is proud to offer the EX37's proven performance capabilities to Chicagoland Infiniti shoppers. Based on Infiniti EX37 reviews, the BMW X3, Audi Q5, Mercedes-Benz GLK and Volvo XC60 cannot challenge the EX37's provocative nature, avant-garde looks and high benchmark of luxury. Last year, the Infiniti EX37 was named Automotive Lease Guide's "2011 Best Luxury Brand." Infiniti Infiniti of Clarendon Hills today and get behind the wheel of the awe inspiring 2013 Infiniti EX37 and rediscover your relationship with the road.
In the clogged market of luxury compact SUVs, few have achieved the success and owner loyalty of the Infiniti EX37. With its debut at the Los Angeles Auto Show in 2007, the 2008 EX dazzled the crowd with its individual styling and smooth, powerful engine. A 3.5 liter V6 pushed the EX35 to an impressive 0-60 M.P.H. in just over 6 seconds. Infinity EX trims came standard with 17-inch wheels, keyless entry and premium cloth upholstery.
Two trim levels are available for the 2013 Infiniti EX37: the EX37 base and the EX37 Journey. Each trim level also features an EX37 AWD option for those with an adventurous lifestyle. Visit Infiniti of Clarendon Hills today for excellent financing options and offers on the 2013 EX37 SUV.
Infiniti engineers and designers are known for developing cars and SUVs that demonstrate a singular stylistic vision that combines itself with superior performance in order to illicit in the driver an emotional attachment to the vehicle and the pavement. The 2013 EX37 at Infiniti of Clarendon Hills continues Infiniti's tradition of challenging the status quo with an ownership experience that defies any luxury SUV on the market. The EX37 features a 3.7 liter V6 with an aluminum-alloy block and heads and an electronically controlled 7-speed automatic transmission with Adaptive Shift Control. The Infinity EX37 is pavement-ready with an independent front double-wishbone suspension and an independent rear suspension with coil springs. The Infiniti EX37 in Chicago comes standard with 18-inch aluminum-alloy wheels and V-rated all-season tires. Additions made in 2012 included the Homelink system as standard equipment on both trim levels.
The Infiniti EX37 Journey at Infiniti of Clarendon Hills takes the luxury of the EX37 to a whole new standard with a variety of optional and standard features like: heated front seats, an advanced climate control system with auto-recirculation and a Plasmacluster air purifier, power-folding 2nd-row seats and beautiful maple interior accents. A powerful 11-speaker Bose audio system with AM/FM/CD player with MP3 playback capability delivers incredible, dynamic sound. Optional on the 2013 EX37 Journey is the Infiniti Hard Drive Navigation System with touch-screen display, Lane Guidance and 3-D building graphics. The 2013 EX37 Journey is available in Midnight Garnet, Moonlight White, Arctic Blue and Malbec Black. Infiniti of Clarendon Hills has the 2013 EX37 Journey for Chicagoland drivers with Infiniti's 4-year, 60,000 mile basic warranty - take one home today!
New technologies in the EX37 and EX37 Journey at Infiniti of Clarendon Hills include Blind Spot Warning, a system which alerts the driver if another vehicle is detected in the blind spot area. Blind Spot Intervention is a unique system that, in addition to the Blind Spot Warning, helps the driver return the vehicle back toward the center of the lane of travel in the event of unintended drift.
There are an infinite amount of situations and possibilities on the road, so why not drive a luxury SUV with world-renowned safety features? EX37 trim levels feature Infiniti Impact Protection Technologies like the Infiniti Advanced Air Bag System, ABS, Active Head Restraints and Electronic Brake Force Distribution. The EX37 from Infiniti of Clarendon Hills also includes Forward Collision Warning, which alerts the driver to an imminent collision by providing a visual and audible warning.
Driving a Infiniti EX37 from Infiniti of Clarendon Hills/Westmont makes driving comfortable, safe and exciting - all at the same time! This is why:
Infiniti of Clarendon Hills has a colossal assortment of 2013 Infiniti EX37 SUVs with standard Infiniti safety features like anti-lock brakes, traction control, driver airbags, passenger airbags, side airbags and more, making the 2013 EX37 an NHTSA and IIHS favorite. In addition to these safety features, the 2013 Infiniti EX37 can amply seat up to 5 passengers. Trunk space with Infiniti is never a worry; the EX37 can hold up to 18.6 cubic feet of your luggage, ensuring that your next outing is hassle-free. To top it all off, the 2013 Infiniti EX37 includes an unbelievable list of comfort and convenience extras like powered windows, mirrors, doors and locks, climate control, AC and optional hands-free phone and navigation systems. Take a test drive at Infiniti of Clarendon Hills today and experience the Infiniti EX37 for yourself.
The Infiniti manufacturer's warranty covers the EX37 for manufacturing defects and has a 4 Years / 60,000 miles Infiniti warranty. Infiniti has worked for years to minimize its environmental impact; as a result, the EX37's carbon footprint is minimal. Not surprisingly, with all of the EX37's advantages, this incredible Infiniti SUV retains a high percentage of its value at 3 years and 36,000 miles, which makes the Infiniti EX37 a great used buy! When seeking a safe, stylish and economical SUV, Clarendon Hills Infiniti aficionados should head to Infiniti of Clarendon Hills
Infiniti EX37 service information for Chicagoland
Infiniti EX37 lessees and owners in Chicago have found that Infiniti of Clarendon Hills is the very best choice for EX37 warranty work, regular maintenance, inspections and mechanical repairs. At Infiniti of Clarendon Hills, Certified Infiniti Technicians trained in the very latest corrective and diagnostic techniques work for one thing - your complete satisfaction. Whether it's time for your Infiniti to have an oil change, tire rotation, or simply undergo EX37 Scheduled Maintenance, Infiniti of Clarendon Hills is your first choice. Our Certified Infiniti Mechanics also complete specialty jobs and repairs. Infiniti of Clarendon Hills is the smartest choice in Chicagoland for quick, amiable and professional Infiniti Service of all kinds.
If you'd like to make an appointment to have your EX37 serviced, click the LINK or just give us a call. Stop by soon!